Paul and I were talking a while back about doing something with the BBE Acoustimax. This is a preamp/pedal aimed at acoustic guitar players, but it just hasn't gained a lot of traction. It has all sorts of neat toys that bass players can use:
Three band, recording-console quality eq with a sweepable mid-range band
Phase reversal
Ground lift
Line level out
Dedicated tuner out
TRS effects loop
Pre/post switchable-balanced DI output with pad
Hardwire bypass
Sonic Maximizer
It's also got a low frequency notch filter that we
don't
need, but that can be turned down/off. But everything else is pretty darned cool, especially that Sonic Maximizer.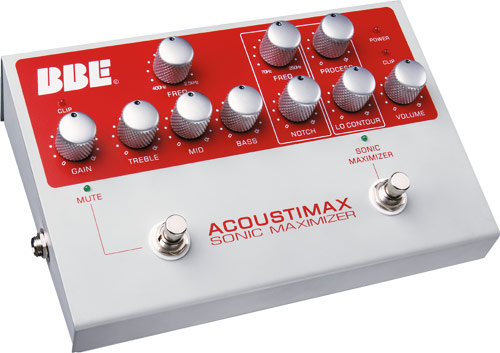 Let's say we're going to reconfigure it and re-brand this little beast as a bass toy. What would we change?
I think the notch filter can be safely tossed, but what would replace it? A little grind? Some compression to tame that SB-2? Maybe an octave toy to test your speakers. Definitely needs a headphone out.
And what would we name our new toy? BMAX-Direct?
C'mon! Help us out here. There have got to be a few of you who have used a SansAmp. It's a good device, but we can do better.
Let's hear it!
Ken...